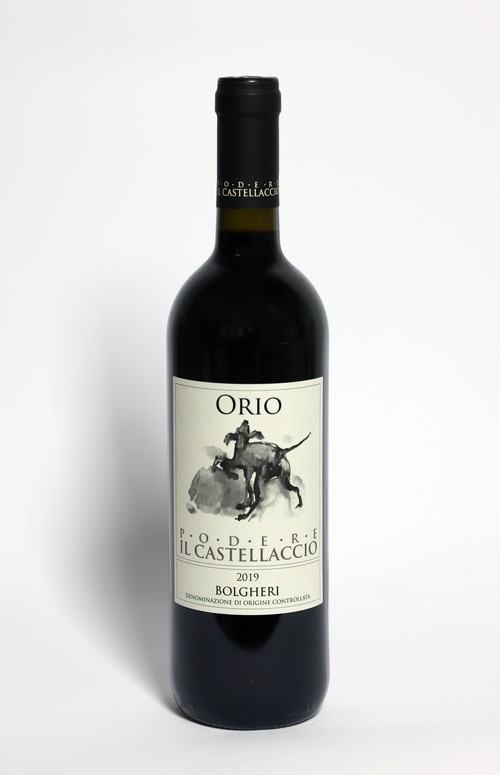 2019 Podere il Castellaccio Bolgheri DOC 'Orio'
The Orio Podere il Castellaccio is a blend of three international grape variety, Cabernet Franc, Merlot and Syrah. The climate is characterized by very long summer and mild winters. The Orio Podere il Castellaccio is fermented n stainless steel tanks at a controlled temperature for 20 days and the malolactic fermentation spontaneously happen during refining. The wine is then matured for a minimum of 12 months in a French Oak of second/third passage. Before release, the wine is aged minimum of 6 months in bottle.
In a corner of Tuscany on the coast of the Etruscan Coast, in the heart of the Maremma of Livorno there is a medieval village nestled on the top of a hill overlooking the countryside and the surrounding sea, Castagneto Carducci. Its municipality, with a territorial extension of 142 sq km and an altitude of 194 m above sea level, enjoys a Mediterranean climate.
Along the coast rise giant pines rooted in hundreds of years able to counteract the frequent winds of the sea, thus preserving a microclimate able to develop an agriculture that expands for as much as 41% of the territory, becoming the second source of ' local economy thanks mainly to the production of oil and wine. Looking up, following the profile of the rolling hills, you can not remain indifferent to the intensity of the green of the woods now totally abandoned and for this natural heritage of the territory. In this context the Podere il Castellaccio farm develops and operates. The property, spread over the sea side of the hill of Segalari coming almost close to the famous Bolgherese road.