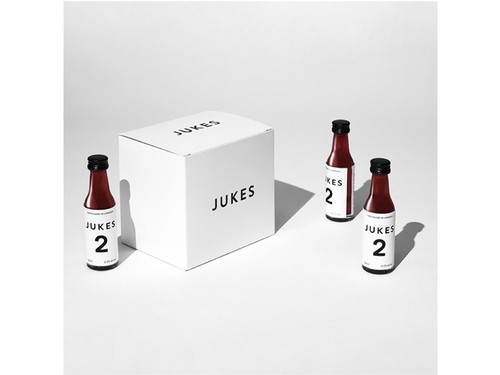 Jukes Non-Alcoholic Cordialities No. 2
Non Alcoholic Wine
Jukes 2 draws its inspiration from the vast panoply of lighter red wines which match so well to the dishes drawn from a classic Autumn kitchen.
Jukes 2 completes Matthew's quartet of seasonal drinks. Jukes 2 is your finest red wine alternative. Jukes 6 is a fruitier, deeper and spicier style with a more mellow, earthy flavour.
Matthew carefully layers all-natural fruit, vegetables, herbs and spices, and macerates them in organic apple cider vinegar to draw out precisely the right amount of character and flavour from every ingredient.
As always, the appearance of the drink is vitally important as we all, subconsciously, respond strongly to visual cues. Matthew describes the colours of Jukes 2 as changing from 'carmine to crimson as you blend the drink with water. The tone of Jukes 2 is directly informed by some of its core ingredients.
The main flavour themes found on the palate are built on the precise blending of cranberries, sour cherries, blueberries, pomegranates, red apples and raspberries and with the addition of earthy vegetables, fragrant herbs and warming spices. There is also a distant smokiness in Jukes 2 which Matthew imbued in the drink to remind him of the smouldering bonfires made from cuttings found in the vineyards, after harvest, when the vines are pruned ahead of their winter slumber. These evocative scents, coupled with 'sous bois' (woodland or forest floor) notes draw one's flavour memory to tasting wine in Burgundy, after harvest in September and October, when the vine leaves turn golden, and the trees segue from green to red-brown and russet up and down the Côte d'Or.
As with the other drinks in the collection, Jukes 2 can be enjoyed with a variety of styles of water and Matthew is convinced that there will be a three-way-split with tasters because this drink, coupled with the addition of cold still, sparkling and also tonic water, results in amazingly different and compelling experiences.
In common with the entire series of Jukes drinks, Jukes 2 is extremely low in calories. In fact, it weighs in as the 'slimmest' of the four, with a mere 10 kcal per glass, when mixed with water, and only 1.6g/L sugar per 100 ml, too. This means that Jukes 2 carries approximately 1/10 of the calories found in a glass of red wine, and when you taste it, you will not believe that this drink can have so much flavour, character and complexity with such innocent calorific content.
Fruity, deep and spicy in style
9 x 30ml bottles in a box
Alcohol-free
Apple Cider Vinegar based, Vegan
Low Calories (10Kcal per glass when mixed)
Made in London
1 bottle makes approximately two 125ml glasses (9 bottles mixed with water equates to the same volume as 3 bottles of wine).