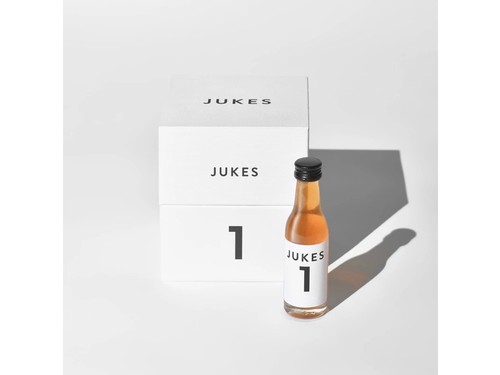 Jukes Non-Alcoholic Cordialities No. 1
Non Alcoholic Wine
Jukes 1 is your finest white wine alternative. Jukes 1 is centred around a citrus and herb theme, designed to be uplifting, clean and bright.
Centred around a citrus and herb theme
-9 x 30ml bottles in a box
-Alcohol free
-Apple Cider Vinegar based, Vegan
-Low Calories (16Kcal per glass when mixed)
-Made in London
1 bottle makes approximately two 125ml glasses (9 bottles mixed with water equates to the same volume as 3 bottles of wine).
Jukes non alcoholic drinks, Matthew carefully layers all-natural fruit, vegetables, herbs and spices, and macerates them in organic apple cider vinegar to draw out precisely the right amount of character and flavour from every ingredient. Organic apple cider vinegar forms the 'backbone' of the drinks, allowing the ingredients to line up beautifully on the palate, adding dryness and length and making Jukes a great accompaniment to food. Great taste comes from exceptional quality, all-natural ingredients. Each Jukes involves approximately two dozen; fruit, vegetables, fresh and dried herbs, spices and flowers, sourced from the same merchants who supply London's finest restaurants.
Jukes are designed to be diluted with still, sparkling or even, tonic water. Yet the preferred serve, as suggested by Matthew, is simply served in a large wine glass with ice cold still or sparkling water and then add Jukes pluming into the glass. The addition of ice is at the drinkers discretion.